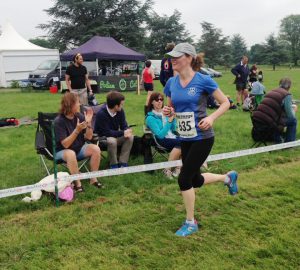 I've been flirting with the idea of doing an off-road race for awhile. I love the idea of running in the countryside rather than along the roads so thought it was about time I swapped the tarmac for the trail.
A few other ladies from Regency Runners had entered the Ragley Off Road 10k, which was taking place at nearby Ragley Hall, so I decided I'd tag along. I was a bit disappointed, however, to discover that the organisers had changed the route to two laps. I do hate laps.
Registration went really smoothly, which was a surprise as a number of triathlons were taking place at the same time. I have to say I felt chilly just watching the swimmers take to the lake. Anyway, after a number of loo stops (why is is that before a race you think that your bladder has gone into overdrive?), the runners congregated on the lawn outside the tent that had been erected for registration and we were trooped off to the start line. It was a very relaxed atmosphere really and there were so few runners. It felt like a couple hundred.
We were still chatting when the horn blew and I hadn't even warmed up. I decided not to go mad with this race. I had a baby a year ago and realised that I was wholly under prepared to run a 10k race on the road, never mind off it.
We ran across the grass towards a wood. It was really beautiful running along the woodland path – that is when you managed to look up and not have your eyes constantly on your feet. Out the woods, there was a bit of tarmac before a scramble up to Ragley Hall on gravel. Gravel – what a bloody nightmare, and up a hill. I thought at one point I was running on the spot. Then the route took us round the gardens and through the stables and past the ice house and onto thick, long grass. At this stage I was feeling so strong and keeping up with a fellow Regency Runner Rebecca. I had no idea where this energy was coming from but I was going with it!
But then when we started the second lap, I began to flag. I probably went off to fast. I had to let Rebecca go as I just couldn't keep up with her. I did end up walking some of the hills although it made me feel a bit better afterwards when Rebbeca's Strava informed her that we'd done 366ft of climbing. Saying that, while I was puffed out, there were triathletes that were storming past me having just swum in a lake and done a mega cycle!
I have to say, I was really pleased when I saw the finish line in sight. I crossed it in just over 57 minutes. Not my fastest 10k by a long shot but the most scenic and once I caught my breath, I decided that I'll be back next year to smash that time. Bring on the trails!
Tanya
May 2016
Here are some photos thanks to Sorrel: