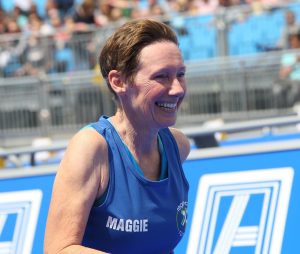 It's been a tough year. The 2017 Leeds Triathlon has been my goal – something that I absolutely had to do, no matter what physical state I happened to be in when the day arrived. Not taking part, and not finishing was not an option.
Some of you know I was hit by a drunk driver last June – bringing me down from the high I was still on after the 2016 Leeds Triathlon. I was a bit bashed up, to say the least, but it was the taking away of my joy that really got to me, so I knew I had to go back again this year to put things right.
The injuries were worse than was first thought, so walking is now a "different" way of walking (hopefully only temporary). I wanted to be able to run the run part of the Tri – I'm still working on it – but had to settle for walking it this year. I'm absolutely fine with that. This year was a celebration of what I can do, not a mourning of what I can't do.
The joy that I felt robbed of last June came back in bucket loads on Sunday – from my own achievement and from the heaps of support from Regency Runners. You lovely ladies said such wonderful things – I cried at every single message, and I've been tearful on and off all day today! I just wanted you to know how much your support meant – Sunday's Two Castles runners had that support too, and I know they will have appreciated every single cheer along the route.
Regency Runners are so totally "totally" awesome!
Maggie Hall
June 2017
Save
Save
Save
Save