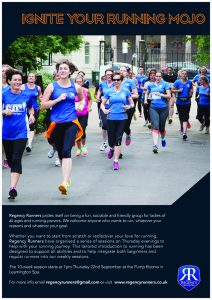 Here at Regency Runners we have been encouraging ladies to take the first steps in their running journey for over six years. Many have discovered a love for running and set their own goals whether that be running Park Run 5k every Saturday or setting their sights on a marathon. Equally, many run with us for the mere love of running, to stay fit and socialize. Some even run to remain sane and have a bit of 'me time' if they have a young family or a stressful job.
Whatever your reasons for running, we'll support you along the way. And if you've lost your running mojo or, indeed, want to find it, if you've never run before, we have organised a new 10-week session just for you starting at 7pm on Thursday 22nd September. By the end of it, you'll be able to run 5k! Download the poster for more details and email us with any enquiries.
The course itself costs £25 but this is redeemable against your £35 lifetime membership fee when you join us once the course ends.
We look forward to seeing you soon.
Save